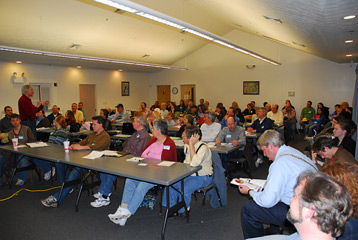 Beekeeping "Short Course" March 2012 Now Full!
BUMBA offers a low cost Short Course on Bee Biology and Beekeeping Basics each Spring. Students learn how to set up your own backyard hive, manage bees, how to harvest honey and pollen, and learn about basic bee biology and behavior and their importance to the world we live in.
For those already registered, the 2012 course runs each Thursday evening in March and the first Thursday evening in April, specifically March 1, 8, 15, 22, 29, and April 5, with a hands-on Saturday field day date April 14, 2012. Classes are from 7PM-10-PM.  
PLEASE NOTE: registrations are not final until we receive your course fee, and places will be given on a first-come, first served basis based on date of payment.
Experienced club members answer your questions and field days give hands-on training—putting together a hive, installing a package of bees, and maintaining the bee colony. Club members volunteer to mentor new beekeepers, helping throughout the year to ensure you have the support to make beekeeping a fun and enjoyable hobby.
The course fee is $40.00/individual or $60.00/family.  If you want to start a hive this year you need to plan on having it going by mid to end of April if installing a package, or by the first week of May if starting with a nuc.  Bees need to be ordered by February or early March at the latest to ensure being able to obtain them, and you should have all equipment built and painted by April 1st at the latest to allow paint to dry and air out.
We recommend that students purchase The Beekeeper's Handbook, Fourth Edition by Diana Sammataro and Alfonse Avitabile, available to order both online and locally from Free State Bees 1 301.580.9313 (the latter usually at a lower price). Classes include refreshments, and door prizes. A new hive is the Grand Prize to a raffle winner.
Class meetings take place from 7:30 PM until 10:00 PM at the Watkins Park Nature Center, 301 Watkins Park Drive in Largo, Maryland.
Directions to the Watkins Park Nature Center:
From Route 301 or I-495 take Central Ave. (Rte 214) to the intersection with Enterprise Rd. (Rte 193). Turn south onto Watkins Park Dr. and go a half mile to the park. Follow the road all the way to the back to the Nature Center. For information about the Nature Center, please call 301-218-6702
For further information contact:
Beekeeping Class
Bob Greenwell, rfgreenwell@aol.com, (410) 279-3086
David Morris, beefriend@verizon.net