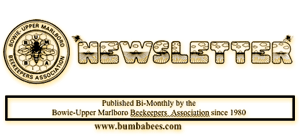 The Bee News
BUMBA has published the Bee News newsletter since 1980. Members receive this valuable publication via email as a part of their club membership.
The Bee News arrives every other month, and is full of club activities, bee management advice, techniques and suggestions uniquely adapted to our local area, as well as bulletins about upcoming club and beekeeping-related events, and links to other beekeepers.
We invite you to take a look at past issues linked here. Newsletters are provided in Microsoft Word '97 format and may be up to 1 MB in size.