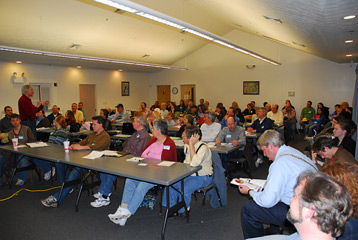 Registration for our 2020 Short Course is CLOSED!
BUMBA offers a low cost Beginner's "Short Course" on Bee Biology and Beekeeping Basics early every year. Students learn how to set up a backyard hive, manage bees, harvest honey and pollen, and learn about basic bee biology and behavior and their importance to the world we live in.
Registration for first family member is $75 and includes a copy of Diana Sammataro's The Beekeeper's Handbook (4th Edition) and lunch at the field day. The price for additional family members is $35 per person and includes field day lunch and handouts. Students must be at least 11 years old and students under 16 years must be accompanied by an adult family member.
For Registered Students:
Dates: Class meets every Thursday evening for seven weeks beginning on February 13, 2020 and ending on March 26, 2020.
Address: Watkins Park Nature Center 301 Watkins Park Dr, Upper Marlboro, MD 20774
Field Day:Saturday April 18, 2020 (rain date the following Saturday if needed)
Time: Class begins promptly at 6:30 pm and ends by 9:30 pm.
PLEASE NOTE: registrations are not final until we receive your course fee, and places will be given on a first-come, first served basis based on date of payment. Registration is limited to assure individual instruction and to meet room accommodation requirements.
Experienced club members answer your questions and on field days give hands-on training—putting together a hive, installing a package of bees, and maintaining the bee colony. Club members volunteer to mentor new beekeepers, helping throughout the year to ensure you have the support to make beekeeping a fun and enjoyable hobby.
Why so early in the year?
If you want to start a hive in the Mid-Atlantic region you need to plan on having it going by mid to end of April (if installing a package—a common way of beginning which we will explain), or by the first week of May if starting with a nucleus colony (less common, but more reliable means of starting a colony).  Bees need to be ordered by February or early March at the latest to ensure being able to obtain them, and you should have all equipment built and painted by April 1st at the latest to allow paint to dry and air out.
Classes include handouts, refreshments, and door prizes. At the field day, one complete hive will be raffled off to one student.
Directions to the Watkins Park Nature Center:
From Route 301 or I-495 take Central Ave. (Rte 214) to the intersection with Enterprise Rd. (Rte 193). Turn south onto Watkins Park Dr. and go a half mile to the park. Follow the road all the way to the back to the Nature Center. For information about the Nature Center, please call 301-218-6702
For further information contact:
Beekeeping Class
Vic Curtis, pres.bumba@gmail.com
Allan Storm badweather@yahoo.com